9TH GRADE RETURN TO SCHOOL INFO CAN BE FOUND ON "FAMILIES" PAGE
Malcolm Jenkins Foundation "Closing the Wealth Gap Program" for Parkway students:
Goalsetter CEO, Tanya Van Court, Orientation Video – LINK HERE
Goalsetter Interest Google Form – LINK HERE
Many thanks to the Malcolm Jenkins Foundation and Ogontz Ave. Revitalization Corporation for the support of our students in this worthy initiative. 
Onward!!!
Visit our Students Page to see our Students Achievements!
Daily Rise and Grind Announcements
(Please note that the most current Rise and Grind Morning Announcement will be placed here.  For past Rise and Grind announcements and other pertinent information for our students, please visit our Students Page.  You will find the last 5 announcements on that page.)
---

Parkway NW earns GOLD recognition for PA Civic Engagement
Parkway NW HS for Peace & Social Justice achieved the Gold status for the Governor's PA Civic Engagement program.  We were one of 24 schools in the state to have over 85% of our seniors that were eligible register to vote last year.  We are proud of our students and families and thankful for the support of the Community Advisory Board to help with this important work.  We look forward to earning this recognition again this year!
---
Upcoming Events
Mondays
Arcadia Camp Tutoring
12:15 PM
Tutoring Link
Tuesdays
Arcadia Camp Tutoring
2:15 PM
Tutoring Link
Monday, May 3rd - Friday, May 7th
Teacher Appreciation Week
Tuesday, May 4, 2021
Virtual Hybrid Learning Session
11:00 AM
Meeting ID
980 4512 2661

Passcode
697867
Monday, May 10, 2021
First Day of Hybrid Learning for 9th Grade Students
Tuesady, May 10th - Wednesday, May 12th
Interim Reports
Thursday, May 13, 2021
Eid-al-Fitr
Schools Closed
Tuesday, May 18, 2021
Election Day
Schools Closed
Friday, May 28, 2021
Early Dismissal
11:40 AM
Monday, May 31, 2021
Memorial Day
Schools Closed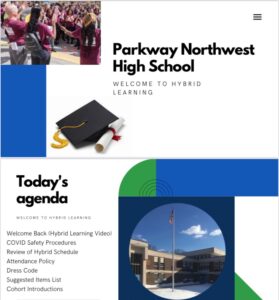 Tuesday, May 4, 2021 – 11:00 AM
Meeting ID 980 4512 2661
Passcode 697867
For more information about upcoming events, early dismissals and school days closed, please visit our Calendar Page.
---
Upcoming Town Hall Meetings for Our Parents and Families
The following Town Halls will address what's going on at the school and any questions that parents/guardians and/or students may have.
| | | |
| --- | --- | --- |
| Date | Time | Click Link Below |
| Wednesday, May 5, 2021 | 6:00 PM | Town Hall |
(Please visit our Parent and Family Page for past family town hall meetings, slides and other pertinent information for our families.)
---
Parkway Northwest will be distributing food every Friday, starting 1/15/21, from 9am to 2pm.
---
The Philly HopeLine is available M-F from noon to 9 p.m. and Saturdays and Sundays from noon to 4 p.m. to provide counseling services for students, parents and guardians who may need additional support during these difficult times. Phone or text 1-833-PHL-HOPE (1-833-745-4673).
Additional Services:
Food benefits (P-EBT) cards will be distributed to qualifying families. Learn more and update your address here.

Limited hours and times and safety protocols apply

If your children need health insurance, either because they never had it or because your benefits have changed during COVID crisis, our partners at PCCY can help you apply.